Social media networks have revolutionized the way people access information, share news, and connect – so much so that this generation of students have been dubbed "digital natives." Students today don't remember a world without computers or the internet, and many are much more comfortable using social media networks than their parents.
As it has woven its way into the lives of this student generation, social media has undoubtedly impacted schools and teachers. Social media is often used as a tool to enhance education, communication, and learning, and has even become part of the curriculum for many teachers and school systems.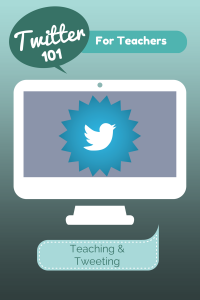 Are you considering diving into social media for professional use? If you're unsure where to start, we recommend first examining if your school has a social media policy in place, and if so, decide what social media presence may be right for your classroom and professional presence. After that, come back to our blog! We're exploring how teachers use social media with our "Intro To Social Media" blog series.
To kick off this blog series, we're exploring Twitter, and developed a few pointers for setting up and using Twitter as a teacher.
What is Twitter?
Twitter is a microblogging social network, which allows you to post images, links, and content in short 140 character-limited posts, known as "tweets". Twitter users follow other users, and have "followers." Once you follow someone, their tweets appear in your timeline each time you log in to Twitter. Twitter specific hashtags allow tweets to be easily searchable for any Twitter users.
Now that you know what Twitter is, here are the top 5 things to consider when creating your own Twitter profile as a teacher:
Be Professional. Decide that this Twitter page is going to be for professional use. If you'd like to use Twitter for personal and social posts, we recommend creating a separate, private account. What you create for your professional account should share your professional insights while showcasing your own personality. Always keep in mind that your audience may include parents, colleagues, and students.
Choose Public or Private. You can choose to make your Twitter profile public or locked (private). If this Twitter presence is public, your posts will be visible to anyone who looks up your page – whether or not they have a Twitter account. If you make your Twitter profile private, people will have to request to follow you in order to see your tweets, and they must have a Twitter account to do so. If you're choosing to use Twitter as a forum for communication about your classroom and assignments, a public Twitter presence will most likely work best. Keep in mind that your school may have guidelines for using a public Twitter page.

Create Your Twitter Identity. Twitter names contain the @ symbol to start, and can't have spaces or certain punctuation marks. Something like "HHS_Teacher" will work "HHS Teacher" does not. Others may be using common Twitter names, so you'll be prompted to create a username that is unique. Then adding a professional profile photo, biography and contact information will complete your profile. Not sure where to start with your profile design? Review other teachers profiles for ideas on how to organize yours.
Listen Up. Not sure what you'd like to post (a.k.a tweet) on Twitter once your profile is complete? You don't have to dive right in. Check out a few other professional educators Twitter pages like: @LucyBartholomee, @ProfeReynolds, @WeAreTeachers, and listen in on conversations that interest you. The #edchat hashtag is a searchable hashtag that can provide lots of great content ideas for teachers using social media. Follow fellow teachers, and feel free to follow us, @ACISTours, too!
#Hashtag. Hashtags, #, are used on Twitter before a certain word, and make that word searchable when clicked. A great way to collectively tie your lessons together is to select one specific, unused hashtag that your class can use on all of their social media updates. #MrsBs5thGrade may work for your year, and when added to a Tweet, make that tweet searchable. Curious to learn more about hashtags? Check out this video on what hashtags are, and how to create your own.
Now that you know the basics of setting up your own Twitter profile, consider diving deeper into Twitter. Think about the identity you would like to project. Are you going to use this as a method for broadcasting classroom information? Will you be responsive if a student tweets at you? Or a parent? Have you considered discussing topics specific to your teaching field, and connecting with other educators through your Twitter presence? All of these questions are important for educators diving into social media.
Knowing that you're expected to be professional, informative, and responsive on Twitter should also help guide your decision on using it as a social media platform. As Twitter users ourselves, ACIS has seen the population of teachers on Twitter grow rapidly over the years. It is definitely a place for networking, sharing ideas, and communicating with other educators around the globe.
While we're fans of teachers being active on social media, we know that it may not be right for every individual or department. Review your schools social media guidelines and chat with other educators before deciding if it is the right option for you!
Twitter also offers guidelines for teachers, specifically discussing privacy and connecting with students.
Are you using Twitter as a teacher? Tell us in the comments! Just setting up that Twitter profile? Be sure to follow ACIS.