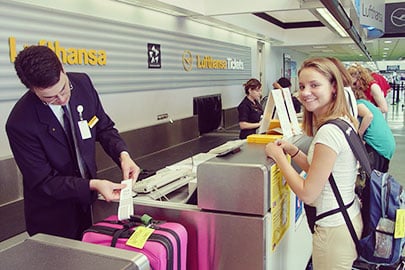 Depending on your flight schedule, you're likely to have time to start exploring in your tour's first city before the more structured itinerary activities begin.  Maximize this first day of travel by reading our arrival day suggestions for fighting off jet lag and ensuring that your high school students experience a smooth introduction to the culture: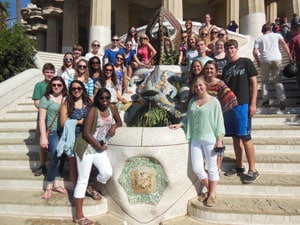 Stay awake and assimilate to the new local time. High school students and adults alike will be exhausted from air travel and might feel like napping, but the best way to prevent jet lag is to re-set your watch and move forward on the new local schedule. Try to go to bed at a normal hour and get a good night's sleep that first evening abroad.
Be prepared for a delayed check-in. Hotel rooms may not be ready when you first arrive, but that doesn't need to stop you from starting to explore. Have students pack in advance so that anything they need for sightseeing is in a small portable bag and the hotel will securely store the rest of your luggage until you return.
Make introductions. If you're sharing a bus with another group, bring all the travelers together with the other group leader(s) and your tour manager to learn names and a bit about where everyone is from.
Review a map. Find the hotel and get oriented. Note where you are in relation to the landmarks you'll be seeing during your stay as part of the itinerary.
Do some research, be prepared. And remember, your ACIS Tour Manager is there to help you get acclimated and comfortable your new surroundings.  They know the ins and outs of high school student travel as well as the city in which you've landed—so don't hesitate to ask them for advice or a recommendation!
For ideas on what to see and do in your specific arrival city, visit ACIS' Explore-a-tour-ium, select your tour from the drop-down list and click the What to See tab.
Looking for more great ideas on getting the most out of your high school student tour? Click below to download our guide to on-tour student learning:
---
[button style="btn-default btn-lg" icon="glyphicon glyphicon-chevron-right" align="left" type="link" target="true" title="FREE LEARNING PACK" link="http://pages.acis.com/learning-pack.html"]