TripStream is a photo stream of our travelers' favorite moments on tour. The experiences are authentic. They're real and spontaneous. And they speak volumes to the beauty of discovering a foreign culture with a group of your own friends, peers and classmates.
If you're looking for a unique angle to help promote your upcoming educational tour (i.e. tug at those emotional heart strings!), here are four easy ways to use TripStream:
1. Post Photos on Your Social Media Sites Using the 'Share' Button
Some teachers choose to create separate social media accounts for their upcoming trip so that registered students and potential travelers can receive updates about passport deadlines, fundraising efforts and other important pre-trip information. (It's also a great way to document your travels during your tour while keeping your personal accounts private, but that's a discussion for another blog post.)
Whether you're using your personal accounts or creating new ones, social media—specifically Facebook, Twitter & Instagram—are great vehicles for organizing your trip into one easily manageable stream.
It's also a great way to generate some exciting buzz through travel photos—a stream of visual eye candy if you will. And TripStream is filled with photos from real travelers! Sharing is easy and encouraged.
Here's how to share photos on your social channels:
Hover or click on a photo you'd like to share
Click the "share" button
Choose a social network
Here's a great example of how one teachers used Twitter & TripStream: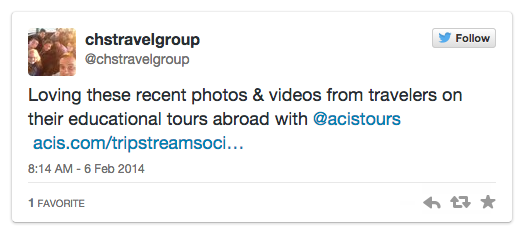 2. Got a Blog? Embed TripStream Photos in Your Posts
Similar to sharing photos on your Twitter and Instagram accounts, you can also use photos from TripStream to beautify your blog posts or Tumblr account. This also uses the "Share" button on TripStream, but instead of selecting a social media account, click the first option to "embed" the photo into your post.
Here's how:
Step 1: Click "Share" and then choose the Embed option
Step 2: Copy & paste the Embed code into your blog post (Tip: You may need to use the HTML view from your blog's tool bar)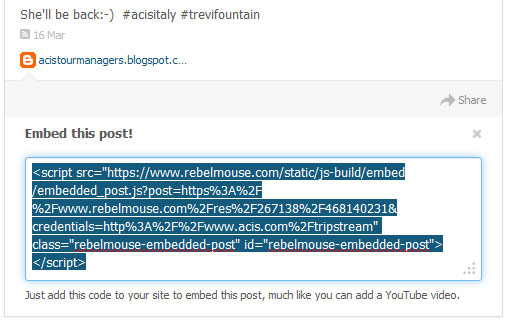 Embedding photos gives you the freedom to complement your post in a fun and visually stimulating way without having to scour the web for photos and eliminates the need to purchase stock photos.
For example, if you're traveling to Rome, you may choose to post a collage of photos of students eating gelato or tossing coins in the Trevi Fountain. Or if your group will partake in a cooking class in Paris, you can easily pluck out a photo of a group baking bread or making macarons.
3. Send an Email to Parents with a Link to TripStream
Our trip planning resources within My Account help teachers illustrate the value of educational travel, but wouldn't it be nice to give parents an inside glimpse of what a tour is really like from the perspective of a student traveler? Something that speaks to the emotional side of travel?
In your email to parents, explain the bonds and friendships formed overseas, the confidence students will gain, the excitement they feel when they share a new experience with their peers, etc. Include a link to TripStream at the end of your email so they can take a look for themselves. Here's one of my favorites: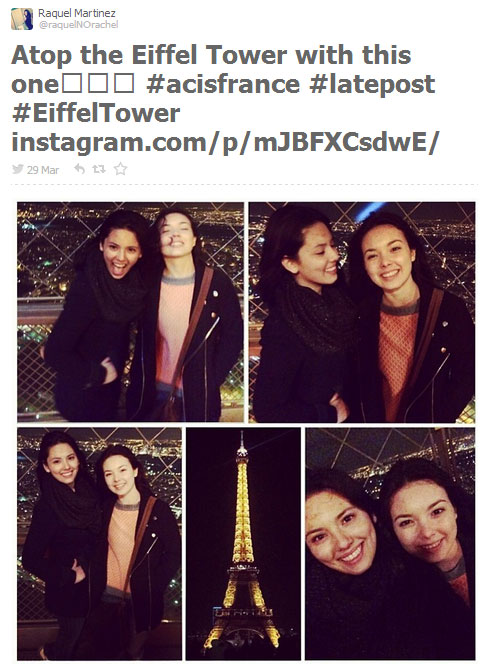 If you want to include this photo in your email, you can use this link.
4. Tell Students to Search for #acis on Instagram
Instagram, the unofficial home of the American teen! Maybe your prospective travelers don't want to visit Tripstream. That's ok. They can view many of the same photos that pull onto TripStream by searching for #acis on Instagram.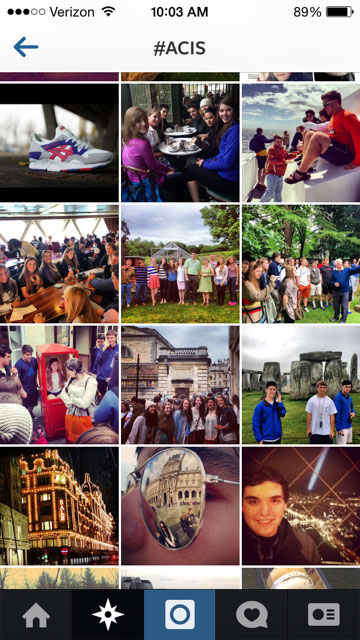 You should know that while the majority of the photos you'll find here are from ACIS travelers, there are a few that have nothing to do with travel. We don't own or manage the hashtag on Instagram so other companies and individuals are free to use it. But again, the majority are relevant to student travel.
So there you have it. If a picture is worth a thousand words then TripSream is pretty much priceless, if I do say so myself. Giving your prospective travelers the opportunity to see photos of real students traveling, sipping hot chocolate at a sidewalk cafe or taking a selfie with their best friend at the top of the Eiffel Tower, it makes the trip more tangible. More relatable. More enticing. More real.