Trip Overview
Ecuador and the Galápagos Islands
June 22 - 30, 2023
with Students of Service (SOS)
with Students of Service (SOS)
Ashli Andersen
274608
SAT
82 days
Announcements & Reminders
Welcome to your next travel adventure! Please let us know if you have any questions about this tour. Read More
What is "Educational Travel"?
Educational Travel is so much more than just sightseeing abroad. Instead, it's a carefully planned mixture of tours, site visits, and hands-on learning opportunities that enrich participants' understanding of the world.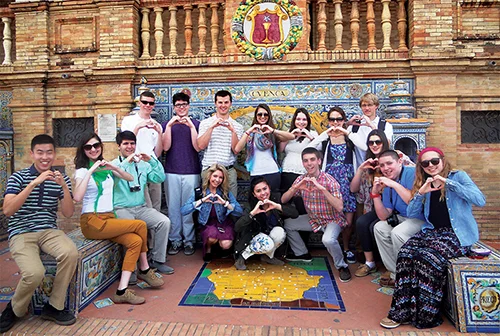 Is it safe to travel with ACIS?
Yes! With over 40 years of safety infrastructure in place, extra precautions introduced to comply with all Covid-related requirements and a fundamental understanding that we won't send participants into harm's way, you can breathe easy traveling with ACIS.
Is this trip worth the cost?
Absolutely! In fact, 93% of last year's travelers said their trip was a good value. Learn more here about the benefits of Educational Travel, such as boosting independence, improving problem solving skills, and inspiring participants with passion and curiosity for the world.
Are there scholarships or other funding opportunities available?
How do I register for my trip?
Who do I contact for more info?
The best thing is watching your students' eyes light up as they drink in a myriad of sites for the first time

1 /
Students by the Numbers
Travel provides students with the skills and experiences they need to succeed. In fact, we surveyed 930 former ACIS travelers and found that:
94%
felt more independent after their trip.
81%
continued their studies in college.
78%
saw an increase in problem-solving skills.
92%
noted better interpersonal skills.
Join Us
Ready for fun, adventure, and stories you'll be telling family and friends for years?
Register Now
Want to know more?
Still have questions about this trip or what you can get out of traveling with ACIS? Feel free to contact us and we'll provide you with more information.
Tell Me More