Understanding Group Travel
Educational travel with ACIS is rewarding in many ways. There are great opportunities for personal growth, learning, and of course, it's tons of fun! It isn't, however, a vacation. Below are a few ways group travel differs from a trip you might plan on your own.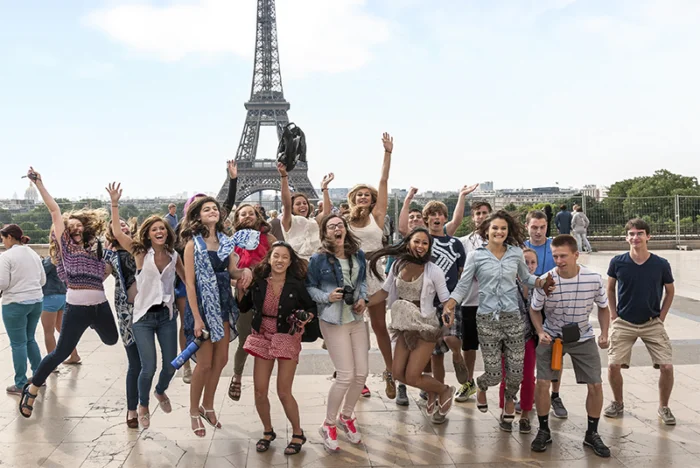 ACIS Partnership
We want to create a meaningful partnership with you and your school and be your trusted advisor through the whole planning process. We know it can be daunting to plan a trip of this scale, but ACIS takes care of all the back-end details, bookings, travel insurance and transportation details so all you need to focus on is getting your students excited about traveling!
Tour Manager
A tour manager is your travel partner overseas. He or she is there to help you with all things travel related, including running sightseeing tours, taking you to meals, planning free time activities and helping with rooming at each hotel. They are there for you 24/7 and are in contact with local and stateside offices in case of any emergency. Rest assured that you will have a knowledgeable, helping hand with you throughout your time overseas.
Group Size
One thing to consider when planning an educational trip is how many students or adults will be joining you. For example, ACIS prices most of our European travel programs assuming 25-30 students. That's why you can guarantee your own private tour if you have that number of participants. But, if you have less, that's fine too. We will simply match your group up with another group traveling on a similar itinerary over similar dates to ensure you are still able to travel overseas. Joining up with another group is a great way for participants to make new friends and meet people from another part of the U.S., it just might require some flexibility with your dates or exact itinerary.
Meals
Food is crucial. We understand hungry teenagers are not something to be messed with. We also know food is an important part of a destination's culture. At ACIS, you can count on delicious and plentiful meals that are a mix of both the familiar and the authentic. One important difference between traveling on your own and traveling with a group is that group meals are set menus. Imagine sitting down at a restaurant with 30 people and ordering off the menu—you'd be there for hours! Set menus allow us to not only price everything into your program ahead of time, but also enable us to make sure that you're at the restaurant for an appropriate amount of time. Dinners typically include three courses—a starter, main and dessert—yum! For groups seeking more variety, in select destinations we can also provide meal vouchers where groups can break into smaller groups and use the vouchers at select restaurants. Talk to your program consultant to figure out what would work best for your group.
Transportation
On a typical ACIS program, you will be traveling via high-quality coach bus between cities and on guided sightseeing tours. This allows for luggage to be stored underneath while you sit comfortably, enjoying the views of a new country. An ACIS coach bus in Europe will seat 49, while a "coaster" bus in Costa Rica is about 21. ACIS will make adjustments based on your group size to best accommodate your group.
The Truth about Free Time
"Free time" on an ACIS tour is simply time without a pre-arranged activity. Contrary to teacher or parents' worse fears, it does not mean students are free to run around by themselves, or that teachers are solely responsible for figuring out what to do next. Depending on your chosen itinerary, there may be little to substantial free time on tour. It's really up to you! Some group leaders enjoy the flexibility free time provides as well as the chance to slow down the pace. Other group leaders, especially group leaders with younger students, want the security of limited unstructured time and the pace to go, go, go.
Regardless of the amount of free time, your Tour Manager is always there to help. Oftentimes, they will lead walking tours of city neighborhoods or arrange visits to museums not included in your itinerary, but of particular interest to you. And of course, free time is wonderful for souvenir shopping, gelato tasting, practicing language skills and simply acting like a local.
Our behavior guidelines require students to never go off on their own, tell their group leader where they are going and carry the name of their hotel or homestay address with them. Our ACIS App is great for helping students safely navigate the city and easily make their way back to the meeting spot.