Frequently Asked Questions
About the Coronavirus (COVID-19)
Message from our President, March 19, 2020:
I've built my life around travel.  I met many of you on my journeys around the globe.  We all have a shared mission to enhance our lives through travel abroad.  The last few weeks have turned that world upside down and we're all learning to navigate in a new world that, for now, requires us to stay in place rather than roam.  As always, we've aimed to adapt for our customers in a situation where the landscape has been changing daily.  Most of our partner schools have had to close temporarily, just as we have had to move to a virtual office environment for the safety of our staff, which we know has made communication more difficult.  For those who have been frustrated by this entire situation, we understand and apologize.
Given the unprecedented nature of these times we have taken some new, significant steps—outlined below—to ease the burden on our would-be travelers.   Times are tough, we know, and we want to be there to help you now and in happier days filled with travel that lie ahead.
Peter Jones
ACIS Founder and President
Please note: The policies below pertain specifically to trips run through our ACIS Educational Tours division to destinations outside of the USA and Canada. Policies differ for our Encore Tours, Fliers Club and other sports divisions due to the unique work involved with booking custom performances and sporting events.
I'm booked to travel with you this spring (March-April). What are my options?
We are currently working with group leaders who were originally scheduled to travel this spring to present an option for an alternate trip either later this year or in 2021. Our first hope for everyone involved is that we can find a new opportunity for your group to travel. Once group leaders have selected a new option, travelers will then have the choice to either roll over to this new trip (with all money paid to date automatically applied to the new trip) or cancel their participation.
What are your refund policies if I choose to cancel?
We have significantly enhanced our cancellation policy for participants on our Comprehensive or Basic Protection Plans. (Our Ultimate Protection Plan, which was available to all participants during the registration process, offers even greater cancellation flexibility.)  Our refund schedule for trips outside of USA/Canada is shown in the chart below. These cancellation policies exist to cover the non-refundable costs that we pay in advance on behalf of our clients, and to support our staff who plan these trips for months in advance and who are working right now to provide new options for travelers who have been affected over the past several weeks.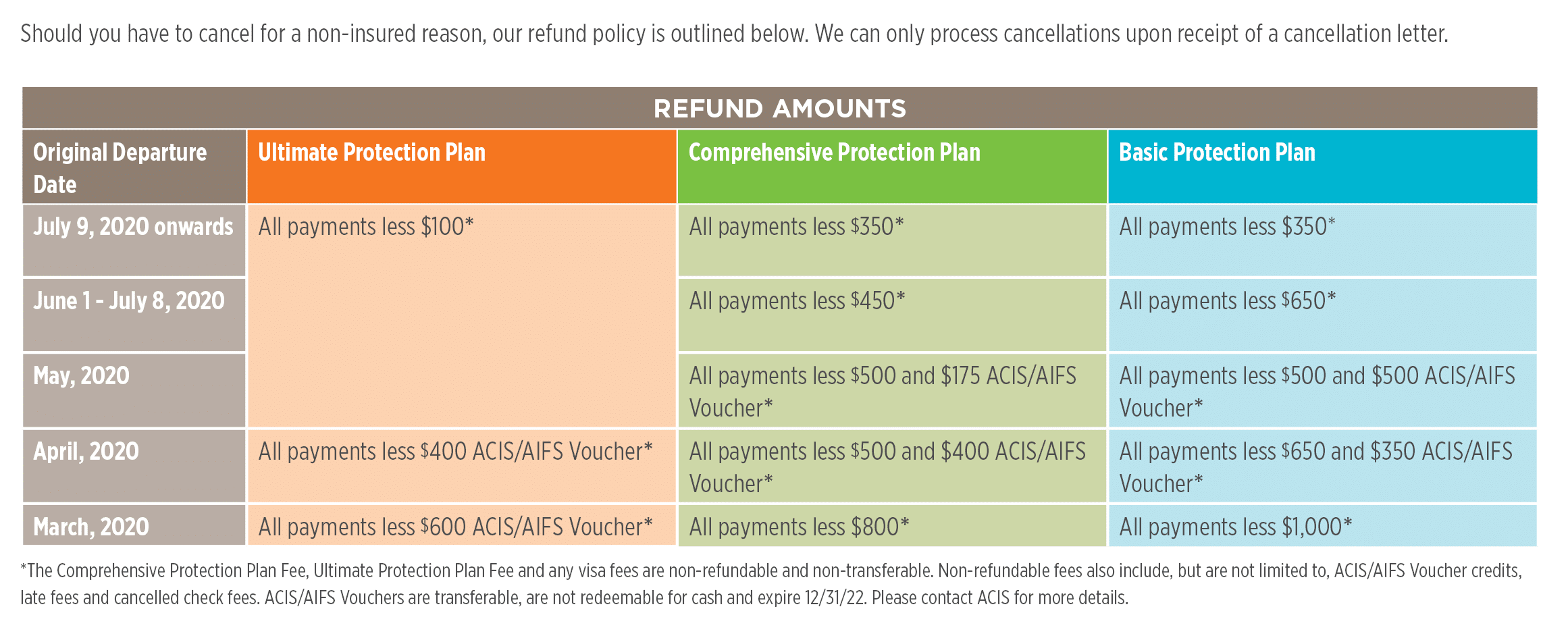 Click here to view a larger image of the chart.
For reference, our standard cancellation policies are viewable on our Travel Protection page.
I have an overseas trip with you that departs this summer (after May 1).  What should I do?
Our advice for you right now would be to sit tight.  We are freezing summer travelers' currently applicable cancellation policies as of March 1 until April 15.  This means that there is no disadvantage to hold off on making travel decisions before then.  We will be discussing new travel options with any group leader who would like to do so, but we're starting with the groups that are due to depart in the next few weeks.  Please bear with us and use the extra time to gather more information, knowing that you're waiting risk-free.
Is there any way to avoid the cancellation penalty?
Yes! Participants may elect the following option and receive a total refund in combination of cash and ACIS/AIFS Voucher.

Click here to view a larger image of the chart.
How can I use these travel vouchers?
Our travel vouchers give you a chance to springboard toward future travel with ACIS or our parent company, AIFS.  You can use the voucher on any ACIS or Encore Performance Tours program outside of the USA and Canada.  Vouchers can also be used on college-level programs, namely AIFS' College Study Abroad and Global Experience's international internship programs.  Study abroad programs are offered in 22 different countries, with short-term, semester and academic year options.  Internships are available in 13 different locations and cover career fields ranging from business to non-profit to technical fields.  Our vouchers are fully transferable, meaning you can sell them to a friend who is interested in any of these programs too.  Vouchers just need to be redeemed for travel starting before December 31, 2022.
When will I receive my refund?
Refunds are typically processed within 45 days of when we receive your official notice of cancellation.  However, Massachusetts' governor has issued a stay-at-home order for all non-essential businesses that will run from March 24 to April 7.  This will limit our ability to print out refund checks (we're based in Boston), but we will do everything in our power to process refunds as quickly as possible while ensuring the safety of our community.
What if my school decides for us that we can't travel overseas in 2020?
If a school suspends all student travel programs, then participants will be cancelled under the enhanced cancellation policy outlined above.
I'm traveling on one of your USA/Canada programs. Have you made adjustments for these programs too?
We are working to increase our flexibility on these programs as well. As we work out a plan with your group leader, s/he will communicate those options to you.
What if something happens to me or our group while we're overseas?
ACIS maintains a worldwide safety network so we always have local support no matter where you are traveling. Our 24-hour Duty Officer systems operates in the U.S. and overseas non-stop to deal with any emergency quickly and professionally. Additionally, all participants are enrolled in an international medical insurance plan coordinated by AXA, our round-the-clock, 365-day travel assistance provider.
If you were to be quarantined while on tour, ACIS will work with local and international authorities to get you home as quickly as possible. If housing is not provided, ACIS will secure your accommodations and cover all costs. We will also buy you a new return ticket, if necessary. If you are a minor, ACIS will fly over a parent and cover the cost for their hotel and flights for the full duration of the quarantine as well.