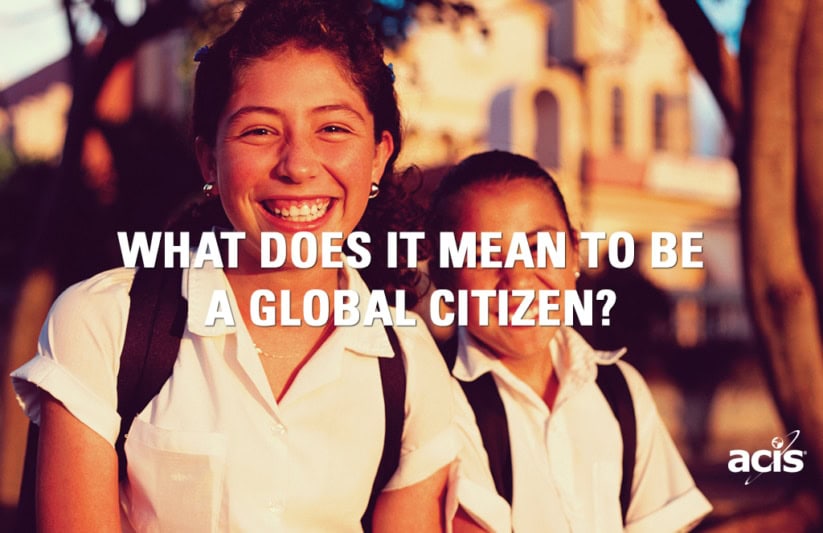 With each passing day, our world becomes increasingly globalized. The food we eat, the clothes we wear, the music to which we listen and the electronic devices we use all connect to us to different corners of the globe. Whether we live in the middle of a bustling cosmopolitan city or a secluded country town, we can communicate with and thus make an impact on communities and individuals all over the world.
It's truly an exciting time to be alive, but being connected is only the beginning. What does it mean for students to grow up in a world where communicating with kids their age on the other side of the planet is just as easy as calling their friend down the street? How does that global connectedness change the way students think and act? Is it just an interesting phenomenon to observe during the information age in which we live or is it something much more fundamental to our lives that bears contemplating on a deeper level?
At ACIS we subscribe to the belief that every time a student's perspective is shifted globally, so does their ambition. We've researched and documented the multitude of ways in which travel has changed students' lives in our experience, but we're interested in exploring this phenomenon from a much wider perspective. In a world where students are coming of age with the entire world at their fingertips, we feel an obligation to imbue a sense of citizenship to go along with that global consciousness.
Organizations large and small have weighed in on this debate contributing to the conversation around what it means to be a Global Citizen in a variety of ways and contexts. Here are four ways Global Citizenship has been defined by four different organizations:
A global citizen is someone who identifies with being part of an emerging world community and whose actions contribute to building this community's values and practices.
A Global Citizen is someone who:
• Is aware of the wider world.
• Has a sense of their role as a world citizen.
• Respects and values diversity.
• Wants to tackle social injustice.
• Believes that all children and young people have a right to an education.
• Lives and promotes a sustainable way of life.
A Global Citizen is someone who:
• Is aware of the wider world and has a sense of their own role as a world citizen.
• Respects and values diversity.
• Has an understanding of how the world works.
• Is outraged by social injustice.
• Participates in the community at a range of levels, from the local to the global.
• Is willing to act to make the world a more equitable and sustainable place.
• Takes responsibility for their actions.
A 'global citizen' is 'someone who understands interconnectedness, respects and values diversity, has the ability to challenge injustice, and takes action in meaningful ways,' but this is by no means the one definition for everyone. It can and should reflect the character of the class, school, and community.
Even though organizations as reputable and esteemed as UNICEF and OXFAM have weighed in, this conversation is just getting started. By no means is there a "textbook" definition at this point, which is why we're so excited to be able to contribute to the dialogue.
We'd love to know what you think! Is Global Citizenship an initiative at your school? How are you tackling this important topic and making your students more globally aware in the process?